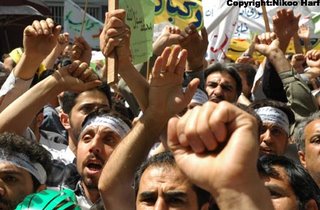 News in Brief from Iran-
Tomorrow the workers will show their strength !
Special day of action for the anniversary of labor law's ratification will take place in all over the country !

Tomorrow , November 20/ 2006, workers all over Iran are going to rally in defence of the labor law !
Mr. Rajabali Shahsavari
the president of contract workers in the country : No worker must stay in their home or workplace , we must all come to the rally and defend the labor law's and the workers. workers won't silence about the government aggression on labor law. Ministry of labor also wants to change the labor law.
The government together with parliament are trying to change the labor law and the workers are against this plan.
Background:

November 19 is the anniversay of Labor Laws' ratification.The laws were ratified after the revolution.Government of Ahmadinejad finds the labor law dangerous for the regime.
Link to this news :
http://www.ilna.ir/shownews.asp?code=368400&code1=9
Does the arrest of Mr. Osanlou and Mr. Ebrahim Madadi who have been arrested today in Tehran has anything to do with tomorrows' rally ?
|
|
|
|